 
Ethiopia
Gesha Village, Surma GVA.INV.5/2022 Lot
100g
Premium Rarities
QUALITY SCORE: 93.00

Cup Notes
Strawberry Jam / Honeysuckle / Grape / Hibiscus / Black currant

Suggested for espresso and filter
when we roast
We freshly roast to order all coffees on Monday, Wednesday and Friday (excluding national holidays), and ship the same day! Cut-off time is 11:59pm (UTC+1) of the day before the roast day. *We only ship whole beans*
Details
Quality Score

93.00

Series

Premium Rarities

Producer

Gesha Village

Country

Ethiopia

Terroir

Surma

Altitude

1940 - 2020 masl

Process

Semi Anaerobic Natural

Arabica cultivar

Gesha 1931

Picked in

January 2022

Arrived in

October 2022

Shipped in

Cardboard box + Vacuum pack

Roast profile by

Rubens Gardelli

Roasted on

Customised solid-drum roaster
Suggested brewing recipe
To help you make the best out of your coffee, Rubens has crafted recipes for brewing this particular lot in filter.

There are two recipes: one for conical brewer (think v60) and one for flat-bottom brewer (think Kalita), however you can surely brew our coffees with any other brewing device, such as immersion brewers.

Please remember that these recipes are intended as starting points and may require further adjustments if the equipment you use is not identical to the one in the recipe; the characteristics of water used can also make a big difference in brewing.

Finally, the recipes suited specifically to Rubens' roasting style, hence we do not guarantee that they will work as a universal reference.
Have fun brewing!
Coffee:

17g
Grind:

Comandante 21 clicks (medium)
Water:

250g (40tds) at 92 Celsius
Time:

2:35
Brew strenght:

1,52 tds
Coffee:

17g
Grind:

Comandante 17 click (medium)
Water:

250g (40tds) at 92 Celsius
Time:

2:30
Brew strenght:

1,55 tds
THE STORY BEHIND
This is the second lot Gardelli Specialty Coffees brought home after a five hour-long bidding at Geisha Village auction. Rubens participated in the auction in the search of two sensory profiles, and he got two best, in his opinion, lots that fit those profiles. One of them is naturally processed Geisha, showcasing the variety's original terroir, and another one is this lot. Its major characteristic is that it represents a perfect combination of an exquisite variety in its natural terroir and carefully tailored and applied anaerobic fermentation. The best of nature meeting exceptional craft! 
Gesha Village Estate is an exciting and inspiring project from Adam Overton and Rachel Samuel, realised with the help of many talented individuals.

The coffee farm is located near the Gori Gesha forest in far western Ethiopia, the place considered to be the origin of the Gesha lineage that has since traveled so far. Surma area is located in the southern area of Gesha Village and features breathtaking views of the valley below. This farm block is named after the pastoralist ethnic group, the Surma, who inhabit the lowlands toward the southwest.

In 2011 Adam and Rachel began developing a 500-hectare coffee farm in Gesha, Ethiopia with one vision in mind: to produce the best coffee in the world. After an exhaustive search, the estate location was chosen based on their strict criteria of altitude, ample rainfall, temperature patterns, rich virgin forest soil, old growth trees, and an existing coffee ecosystem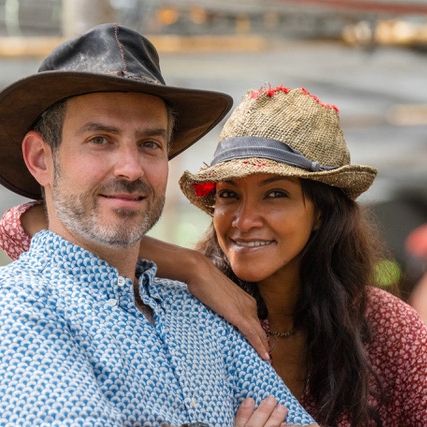 THE VARIETY
Rare, exclusive and fetching a heavy price tag, Gesha is often associated with coffees from Panama when in fact cultivation of the Gesha varietal only began there in the 1960s.

Gesha is an original variety of coffee that was discovered in the 1930s in the mountains around the Southwestern town of Gesha, Ethiopia. Gesha trees grow tall and can be distinguished by their beautiful and elongated leaves. The quality of this coffee can be drastically improved when grown at extremely high elevation.

The Geisha revolution set off a intense search for Geisha among coffee buyers and a primal pilgrimage to Ethiopia to find the source of that flavor. The roads those buyers traveled brought them in a wood in far western Ethiopia near a small town called Gesha in the forests where coffee was born and still grows wild.

Gesha 1931 is from this place.

Its name reflects the place and year it was collected by scientists who fanned out on a research expedition in Ethiopia to catalogue its coffee varieties.
THE FERMENTATION PROCESS
As producers give increasing consideration to the effect of fermentation on the quality and profile of their coffee, they are adopting different and interesting techniques to their repertoires in order to diversify their offering. One method that is becoming more popular is fermenting coffee in a controlled anaerobic environment, in this particular case, the freshly harvested coffee cherry is fermented inside a cement tank in an oxygen limited environment, and then dried as natural process in the shade.