 
Guatemala / Ethiopia
Cignobianco® signature blend
*Signature Espresso Blend*

Cup Notes
Milk Chocolate / Almond / Yellow Plum / Caramel
 
Suggested for espresso
when we roast
We freshly roast to order all coffees on Monday, Wednesday and Friday (excluding national holidays), and ship the same day! Cut-off time is 11:59pm (UTC+1) of the day before the roast day. *We only ship whole beans*
Details
Quality Score

85.00

Series

Specialty

Country

Guatemala / Ethiopia

Terroir

Santa Rosa / Yirgacheffe

Altitude

1400-1900 masl

Process

Natural / Washed

Arabica cultivar

Caturra / Ethiopia Heirlooms

Shipped in

Jute + GrainPro

Roast profile by

Rubens Gardelli

Roasted on

Customised solid-drum roaster
DESCRIPTION
Cignobianco is our signature and only espresso blend and has been the staple of our lineup since the very beginning. It is our interpretation of the perfect everyday coffee, something to be enjoyed whenever the desire takes you. To create it we carefully source two fresh-crop lots of speciality grade Arabica, working closely with the farmers to ensure the highest quality, and then infuse them with our passion and expertise to create a harmonious and balanced taste experience. This supreme balance and wonderful sweetness is reminiscent the grace and elegance of the White Swan (Cigno bianco)
THE VARIETY
A cross between highly productive Mundo Novo and compact Caturra, made by the Instituto Agronomico (IAC) of Sao Paulo State in Campinas, Brazil. The plant is highly productive compared to Bourbon, in part because of its small size, which allows plants to be closely spaced; it can be planted at nearly double the density. The plant's shape makes it relatively easy apply pest and disease treatments. It is mainly characterized by great vigor and its low height; it is less compact than Caturra. It is highly susceptible to coffee leaf rust.
Catuaí derives from the Guarani multo mom, meaning "very good." Today, it is considered to have good but not great cup quality. . The cultivar was created in 1949 from a crossing of yellow Caturra and Mundo Novo, and initially called H-2077.There are yellow-fruited and red-fruited types, and there have since been many selections in different countries
The variety was released in Brazil 1972 after pedigree selection (selection of individual plants through successive generations) and is in wide cultivation there.
It was first introduced in Honduras in 1979, where it was tested by Instituto Hondureño del Café (IHCAFÉ). It was released commercially in 1983, after IHCAFÉ selected two lines for planting. In Honduras today, Catui accounts for nearly half of the Arabica coffee in cultivation. Researchers at IHCAFÉ are actively pursuing breeding with Catuai, including creating hybrid crosses between Catuai and Timor Hybrid lines.
It is also economically important in Costa Rica, where a yellow-fruiting Catuai was introduced in 1985, whose descendants have spread widely through the country. It was introduced into Guatemala in 1970; currently about 20% of the country's production is Catuai. It has a negligible presence in other Central American countries.
Catuai, whose small stature allows it to be planted densely and harvested more efficiently, led in part to the intensification of full-sun coffee cultivation in Central America in the 1970s and 1980s.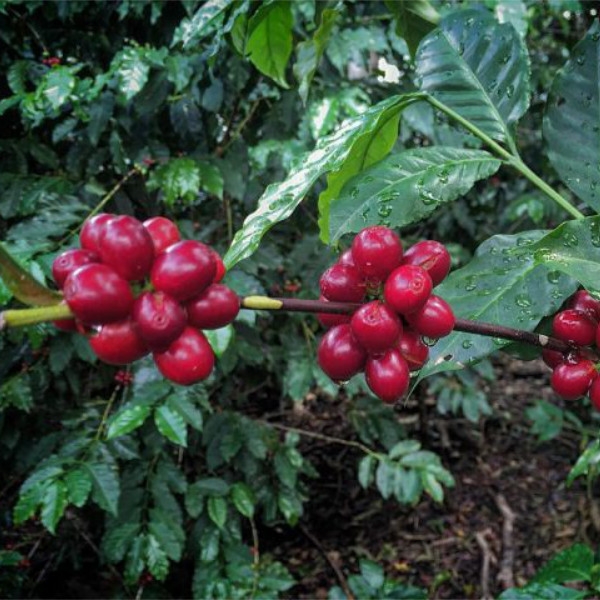 THE FERMENTATION PROCESS
Dry process seems simple: pick the fruit, lay it out in the sun until it turns from red to brown to nearly black, and then hull off off the thick, dried outer layer in one step to reveal the green bean. It is a method suited to arid regions, where the sun and heat can dry the seed inside the intact fruit skin.
It's often referred to as "natural coffee" because of its simplicity, and because the fruit remains intact and undisturbed, a bit like drying grapes into raisins. Since it requires minimal investment, the dry process method is a default to create cheap commodity-grade coffee in areas that have the right climate capable of drying the fruit and seed. 
But it's a fail in humid or wet regions. If the drying isn't progressing fast enough, the fruit degrades, rots or molds. 
Dry-processed coffees can also be wildly inconsistent. If you want a cleanly-fruited, sweet, intense cup, dry process (DP) takes more hand labor than the wet process. Even the most careful pickers will take green unripe or semi-ripe coffee off the branch as they pick red, ripe cherry. If these are not removed in the first days of drying, the green turns to brown that is hard to distinguish from the ripe fruit.